A few months ago, I wrote a post describing the strategies that helped me pack for a 12-day trip without checking a bag.  I just got back from an 11-day trip in the dead of winter, so I wrote this sequel post to show how I made it work again with bulkier winter clothes.
Here are the 3 main reasons why I am adamant about packing for trips in carry-ons:
1. It saves $$$.  Factoring in both the coming and the going, you'll spend $50-$75 to check your bags on most major US airlines.  You could buy a new pair of shorts or crops with those savings!
2. It's faster.  You can go straight to your gate when you arrive, and peace out of the airport as soon as you get off your plane without waiting for the baggage carousels to get rolling.
3. No risk of bag drama.  I'm always paranoid that I'll pack a suitcase full of my precious "babies", and the airline will either be late or lose it altogether.  Sure, it's pretty rare, but it's a risk I'm not keen to take.
With that in mind, I raided my closet for the perfect combos.  I had to factor in both temperature and activities: I was heading to the east coast, where weather was expected to be decidedly wintery, including temps that could dip below freezing.  Occasional rain was likely, although no snow.
Thankfully, my trip was pretty casual (unlike my summer trip that included a wedding–eek!), and while I like to look smart if I go out to dinner, I didn't have anything fancy lined up.  Also, I wanted to be sure I had the right clothing for a workout or yoga class if the mood struck.
Like my last trip, I used my lululemon sweat once a day bag and weekend warrior bag.  The weekend warrior is a bit smaller than a rolling suitcase, but it's easier to maneuver into overhead bins since it's squishy.  Also, it makes me feel better and more stylish when I use it versus my old, ratchet rolling suitcase.  Priorities.
The only things in my sweat once a day were personal items like my laptop, chargers and headphones, snacks, book, and the usual purse necessities, so I won't go through that.  Here's how I packed my weekend warrior…
Tops:
1. Alala weekender dress: a do-everything essential.  This jersey dress is not only cute and comfy, it also dresses up and down really easily.
2. Lululemon rulu long sleeve: I brought my full tilt long sleeve from last year, which works for a workout or a hike if I found myself in that situation, but also would look just fine as a casual piece.
3. Splits59 vail pullover: this medium weight pullover is always fun to wear because of its cutout back.  I can wear this over tanks for chilly days that aren't absolutely freezing.  This PO wasn't an absolute must-have, so if I was short on space, I could've left this one behind.
4. Chai time pullover: this was one of my workhorses for this trip.  This slightly warmer sweater is reversible, and it dresses up with jeans, or dresses down (and covers the booty) with leggings.  The boatneck fit also means I get to show a little pop of color underneath.
5. Rest day pullover: this thicker pullover was my hoodie substitute.  I could wear it over a tank or over my rulu LS for maximum warmth.  The lack of a hood meant I could easily slip a coat or my vest over the top.  I opted for this over a scuba hoodie both because it's slightly more compact and more layering-friendly.
6. Cool racerbacks: I brought 2, one colored (bumble berry), one neutral (heathered medium grey).  These serve as both a tight (i.e., warm!) base layer, but also a little bit of color when I wanted it.
Tip: it's super-important that everything I packed would coordinate with everything else.  That's part of why I packed mostly black, with just a couple of pops of color.  This way, I don't have to fret about matching and can maximize the combination possibilities.
Bottoms:
1. Lululemon wunder under crops: if I got surprised by an unseasonably warm day, I would be good to go with this shorter length.  These would also be the most workout-friendly since they're not as hot as my other bottoms.  And for wearing them on colder days, my leg warmers did the trick.
2. Lululemon wunder under pants: I specifically chose coco pique, a textured WUP, for its extra warmth.  Like the WUC, these double as tights under a dress.
3. Lululemon dog runner pants: my dog runners and I are inseparable in the winter, so these were a no-brainer.  They'll match everything, provide superior warmth, would work for a chillier workout, plus they're just comfy to wear.
4. Jeans: I don't usually pack jeans for travel because they are so bulky, but I caved this time for their warmth and versatility.  I ended up with a pair of narrow bootcuts, but in retrospect, I think I would've preferred skinnies.
Tip: I packed fewer bottoms than tops because to me, switching it up on top is a better way to add variety than changing bottoms.
Accessories:
1. Bras (duh!): I wear sports bras under just about everything, but I brought a "real" bra too, for good measure.  Since I only brought 4 and therefore would have to wear them a couple of times each, I made sure they were clean before my trip.
2. Hat: a warm beanie (aka toque for you Canadians) is one of the quickest, easiest ways to lock in warmth while taking up almost no space at all.  Mine is fleece-lined, which makes it ultra thick and warm.
3. Leg warmers: these are another way to add a lot of warmth for not a lot of space.  I can wear these under boots (optional: make the top stick out for a little added panache), or slide them under bootcut jeans to keep the cold from creeping up my legs.
4. Vinyasa scarf: if you don't travel with a vinyasa, you're doing it wrong.  Hands down one of my favorite travel pieces, this bad boy isn't just a scarf, it can also work as a pillow or a blanket on the plane.
Tip: don't be icked out by wearing bras several times.  Washing bras too often can actually shorten their lifespan.  I wash mine every 3-4 wears, except when I get mad-sweaty.  Instead of bringing tons of bras, you can pack a small baggie with a scoop of powdered lingerie detergent (I use Forever New) and hand wash your unmentionables in the sink.  A scoop of detergent takes up much less space than a zillion extra bras and undies, and washing them really only takes a few minutes.
Shoes:
1. Boots: a pair of tall boots that will match everything and keep my legs extra-warm for the coldest days.  I chose these cognac over-the-knee boots.  These will withstand a small amount of rain for walking in and out of stores and such.  In light of that, suede would've been a terrible idea.
2. Ankle boots: these serve basically every purpose.  I chose my trusty snow leopard Sam Edelman booties, but a pair of black leather booties would've been excellent as well.  For winter, these are an infinitely better option than ballet flats, which are just too cold for me.  Again, I avoided suede.
3. Athletic shoes: self-explanatory.  My Reebok Nanos worked for any kind of workout or just when I felt like bummin' it.  Also, boots would've looked seriously dumb with my dog runner pants anyway.
Tip: stuff your socks inside the shoes you're packing.  This not only saves space, it keeps your shoes from getting crushed.  Also, I pack my shoes inside of a bag (I used the liner bag that came with my weekend warrior), which prevents them from getting your clothes dirty.
Outerwear:
1. Lorna Jane puffa vest: this is another pop of color that I knew I would wear a ton.  Also, I ended up rolling a bit of it's puffy, fleecy goodness into a pillow on my red-eye flight.  The hood is also removable for when I don't need it.
2. Lululemon fluff off jacket: I can actually wear this jacket and the LJ vest at the same time, to form a dream team of glorious warmth.  I wore both of these on both legs of my flights, so I didn't have to worry about fitting them into my bag.
Tip: outerwear is the biggest challenge for winter packing.  Try to find a looser-fitting coat you can stack on top of another layer (the vest + coat combo is golden), and always wear your bulkiest layer for your flights.  You can stash it under your seat if you have to, but let's be real, it's going to be freezing on the plane anyway. ;)
Toiletries and cosmetics:
I keep things very simple here.  In general, I'm all about finding the minimum number of products that help me get a polished look.  For me, that's foundation, concealer, a couple of my favorite NARS blushes, the Urban Decay Naked3 palette (with primer), mascara, and a couple lip colors just for funsies. I generally don't put product in my hair, so I save a lot of space that way, too.
Tip: for skincare and toiletries, pack sample sizes whenever possible.  For your makeup routine, you'll get the most variety with lip and/or eyeshadow colors.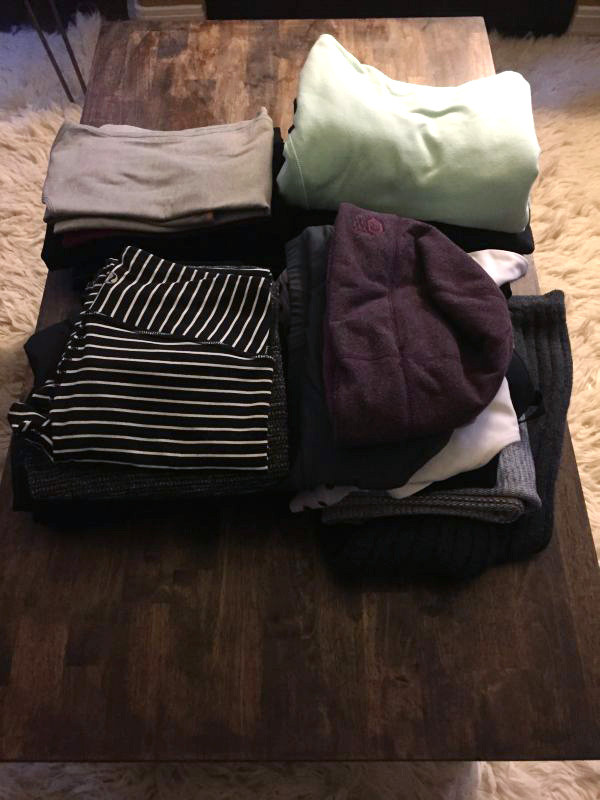 My pile of goods (minus my plane outfit) fit perfectly into my bag without even straining to zip it shut.  Success!
Look for an upcoming post with all of my outfits during my trip, which will show you what it really looks like to wear all this for 11 days.
I hope this inspires you to reimagine your packing strategy for a future trip.  I've learned that packing can really be simplified more than you think!  Keeping it simple helps you stay sane both before and during your trip, and I promise you won't die if you have to wear the same top more than once. ;)
Find what I packed / similar things: