I experimented with my selfie-taking this week, hence the pic variability.  As you'll see, some were more successful than others… :)
Lululemon black power y tank
Lululemon milky way wunder under crops
Rainy and COLD day meant I finally got a chance to wear my milky way WUCs.  Went on a very exciting trip to the grocery store.  By which I mean a 100% average trip to the grocery store.
(Selfie experiment #1: phone on windowsill)
Lululemon blue tropics speed shorts
Sometimes, you just have to wear a t-shirt and not care.  Ya know what I'm sayin'?
I was hella grumpy, so I attempted to take my frustration out on the massive volume of deadlifts in the WOD.  I would call that mildly successful.
(Selfie experiment #2: ok, I was just lazy)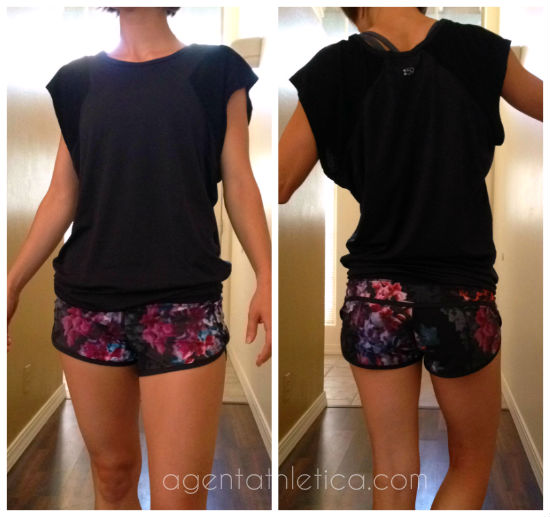 Splits59 black glory muscle tee
Lululemon spring has sprung speed shorts
Went in for a round of my upper body work, and guess what?  Pull-ups were in the WOD, too.  Oops.  Because of that, and because I was just getting started on the whole extra work situation, I only did that work for 12 minutes instead of 16.
The WOD as prescribed was Frantastic: 6 rounds of 13 thruster (65#) and 14 pull-ups.  I scaled the thrusters back to 35# and the reps back to 6 and 7 (still 6 rounds, unassisted pull-ups).  I finished in 8:28, which was about HALF the time it should've taken me.  Major scale fail.  I did an extra round of 13 and 14 reps as penance.
(Selfie experiment #3: phone on bookshelf front hallway)
Lululemon black cool racerback
Lululemon milky way speed shorts
I went to all the trouble of wearing my india blue YogaSmoga bra, which matches my milky way speeds, and you couldn't even see it!  Bummer.  Also, the strangest thing: there was a girl in my WOD who was wearing a nearly identical outfit.  Same speeds, and a similar black tank.  So strange considering I virtually never see anyone else at my gym wearing speeds I have, much less on the same day.
My WOD was 30-20-10 power snatches (I scaled to 35# because my snatch is truly unfortunate) and rowing for calories.  I finished in just a hair over 13 minutes.  Welcome to Slow Town, population: me.
(Back to selfie experiment #1 because it's the best.)
Banana Republic striped half-sleeve tee
Lululemon love red energy bra
Lululemon black speed shorts
Rest day.  We went to a picnic/pool party thing for my boytoy's work.  It wasn't blazing hot enough for me to be interested in swimming, so I wore this. (It was, however, good weather to eat pizza.  It's always good weather to eat pizza.  Sorry not sorry.) Because this tee has a wider neckline and I have pretty narrow shoulders anyway, my bra strap often ends up peeking out.  That's not a look I'm particularly fond of (for normal bras anyway), so I figured I might as well run with it and make it intentional.  Problem solved!
Lululemon fresh teal rest day pullover
Lululemon sea check plaid speed shorts

Lululemon paris perfection cool racerback
Lululemon sea check plaid speed shorts
COLOR BOMB.  The pink in these speeds is actually raspberry glo, but plaids are forgiving enough that paris perfection works just fine (and probably just about any other bright pink).  10/10 would wear this combo again.  Later that evening, I wore my rest day pullover out and about after the sun went down.
At the gym, I worked on my upper body business again (if you're counting, yes, that's the 2x/week I promised), this time for the full 16 minutes I planned.  Maybe it was just mental, but I already felt a little stronger at both pull-ups and ring dips.  After finishing that up, I got a 10 pound back squat PR!  I bet I could've tried for another 5 (or 10?!?!), but I was out of time and we had to move on to other things.  My new PR means I'm only 10 pounds away from my goal of a 1.5x bodyweight back squat, which I've been working toward for over a year now.  I've already made 25 pounds of gains since setting that goal, so another 10 isn't too far off!