Lululemon forme jacket in mini check pique
Lululemon cool racerback in surge
Lululemon dog runner pants in black
For strength days, I always go for thicker layers, like my dog runners.  Actually, I would probably wear my dog runners just about every day from November to February if I could.  Extra-warm AND pet hair resistant = magical.  Alas, I only have one pair.
Anyway, I did 5×5 back squats and was pleased that ~80% of my 1RM for all 5 sets was not as hard as I expected it to be.  That said, it did still pretty much cripple me for the next 3ish days.  5×5 is always a bringer of serious pain.  But on the plus side, based on how my sets felt, I should be able to add another 5 or 10 (or 15?!) lbs onto my current max and finally hit my 1.5x bodyweight milestone.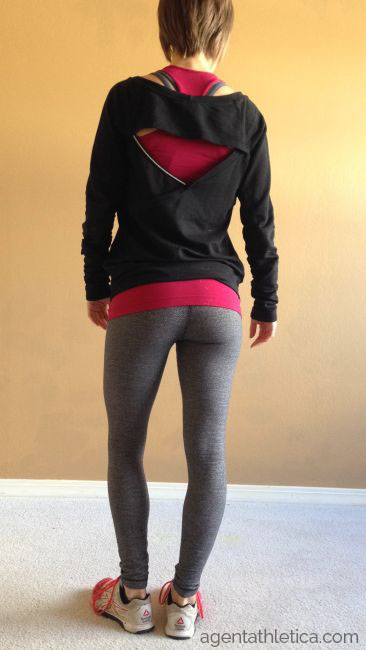 Splits59 vail cutout pullover in black
Lululemon cool racerback in bumble berry
Lululemon wunder under pants in heathered slate herringbone
Super-excited I finally found a bumble berry CRB.  After I decided I needed one and they had already sold out, it took me several weeks, but I finally managed to snag one NWT off eBay at retail price.  This is actually the first CRB I've bought since February.  My tank color options are in need of a little more variety, but lulu's sorry CRB selection this year certainly isn't helping.  I do have my eye on the forthcoming parallel stripe CRB, though.
I worked on strict pull-ups and managed to get 2 with a 10# weighted vest.  Related to that, I've also started working on my muscle-ups–I have the strength for it but not the technique.  I did my first real attempts on the rings last week, but haven't been able to get into the transition yet because of, well, technique reasons.  Maybe, just maybe, I'll get one by Dec 31, but realistically it may take several more months.
Lorna Jane candy puffa vest in ocean
Lululemon forme jacket in mini check pique
Lululemon cool racerback in heathered medium grey
Lululemon rebel runner crops in black grape
Reebok nano 4.0 in porcelain
Finally, I got new shoes for CrossFit.  I've been wearing the same beat-up pair for the entire year and a half I've been doing CF, so it was definitely time.  In a perfect world, someday I'll get a pair of teal/blue and a pair of pink ones.  That should about cover the matching needs of my entire wardrobe.
I did fight gone bad for the maiden voyage of my new kicks, which is most definitely my least favorite benchmark WOD.  On the plus side, I upped my score from August 2013 score of 174 reps to 215.  There's a chance I used different weights this time because for some reason the weights from my previous attempt aren't in my notebook, but either way, I'm happy with that score and will happily not do it again for another year or possibly ever.
Alala weekender dress in heathered grey
Navy scarf
Splits59 kym tights in black
Target leg warmers
The Cool People cognac OTK boots
Another one of my Black Friday scores: a second in color in my most favorite dress.  I went out to a casual networking even at a local brewery, but I couldn't help but sneak in leggings underneath, especially since they're much warmer and more comfortable than tights anyway.  In the winter, I love buying and wearing about 137 variations of neutral colors and then piling on layer after layer.  The leggings + leg warmers + OTK boots combo is particularly awesome because it's like wearing 3 pairs of pants at once, which is pretty much my only shot at Not Dying in temperatures below 40.