When I first saw rain in the forecast over my Yosemite, you can imagine how disappointed and frustrated I was.  It had been so sunny in the weeks leading up, and I couldn't believe I was so unlucky.
But rain doesn't have to ruin your plans.  Saturday was our third and last day in the park, and after we checked out of the hotel, we figured, why not go out one more time?  It was wet, but it wasn't pouring rain just yet.  We figured we'd just hike as far as we felt like.  If the rain was just too much or we ran out of time, we'd just turn around.  We were already there, so we owed it to ourselves to at least try.
We decided to head to Mist Trail, a name that was appropriate for so many reasons that day.
Normally, Mist Trail is closed all winter due to dangerous conditions from the snow and ice.  Just about a week before our trip, I saw on social media that they had opened the trail!  I was happy to have another option for a famous trail to check out on this trip.  By the way, handy tip: if you're planning a trip to a national park, follow their social media beforehand.  I've gotten so many tips and interesting tidbits that way!!
The Mist Trail actually connects with a lot of other trails in the park and even trails far beyond.  We had to leave time to drive back to the Bay Area that evening, so we didn't have the whole day to hike.  We figured we'd just hike as far as we felt like and turn around if it started raining too hard or when we ran out of time.
The trail starts off paved with some mild uphill portions here and there.  The trail was a little bit crowded since we had such a late start (around 11), and since doing some portion of the trial is an appealing hike to hikers of all levels.  You hike along the Merced River, which was rushing along over the rocks below.
The towering granite had a totally different look all dressed up in mist.  In this photo, you can actually see Upper Yosemite Falls in the distance.  In less than 24 hours, the park had completely transformed.
Less than a mile into the hike, you reach a footbridge that crosses over the river.  You can see Vernal Fall in the distance, or just admire the river flowing underneath you.  This is a good stopping point for those looking for a shorter, easier stroll.
Shortly after, the pavement ends and you find yourself near the base of Vernal Fall.  Now the real "fun" begins.  You're staring down the barrel of 600 ft of stairs in the space of just 0.5 miles.  Also, since we weren't far from the falls and the weather was quite wet, the trail and everything around it at this point was pretty much soaked.  I was misted all over pretty quickly.  It had rained lightly off and on leading up to this point, but now it didn't even matter if it was raining, because the falls meant it was effectively "raining" no matter what.  Once again, I'm glad I didn't let the rain dissuade me, since it didn't really make a difference on this trail after all.
As you make your way up the stairs, you get up close and personal with Vernal Fall.  Like the other falls in Yosemite this time of year, it was flowing pretty strongly.
It took us quite a while to make it up the stairs.  At the risk of showing my dorky side, I kinda felt just a little bit like Frodo and Sam making their way up Cirith Ungol.  Fortunately, this hike was a lot prettier and there decidedly fewer giant spiders at the top. :)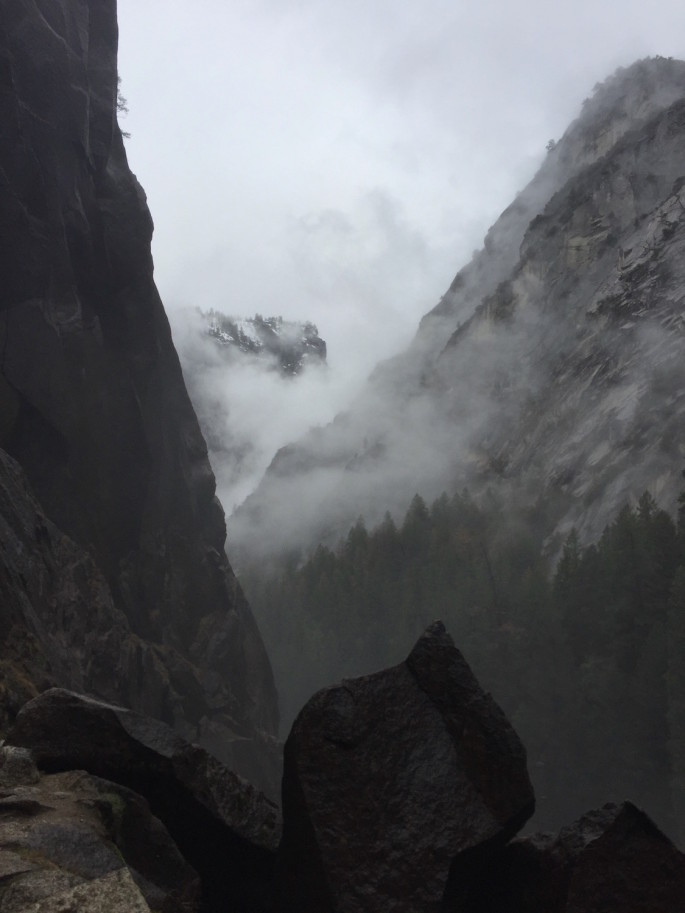 The walkway was narrow in most places and there were lots of hikers.  Plus, 600 ft all at once is pretty grueling.  The final bit of stairs is particularly narrow and takes you up the side of a rock face with a several hundred foot drop next to you.  I didn't take a picture here because I didn't want to block traffic (and because I was tired), but I found a photo here.
Much like the top of Yosemite Falls, you couldn't see a lot of waterfall from the top of Vernal Fall.  But, since these falls weren't so tall, you did get a pretty view to the river below.
We decided to just a little further and hiked a little ways past the falls, maybe half a mile.  Hiker traffic dropped off considerably after that.  The feature above is called Silver Apron.
We only went maybe another half mile or so and arrived at another footbridge.
Nevada Fall was just barely visible in the distance.
Part of me wanted to keep going to the top of Nevada Fall, but my legs were still tired and sore from our hike the day before plus the stairs we'd just navigated.  We were running low on time anyway, so we decided to turn around at the bridge.  I felt less sad about missing out since I'm pretty much hellbent on hiking Half Dome in the next couple of years.  Whenever I do that hike, I'll be doing this same trail again, just going a lot further.  So by turning around then, I didn't feel like I was turning away from my only chance to see the top of Nevada Fall.
Our timing ended up being great, since on our way back, a park ranger had come up and closed all the gates to the trail.  Since the rain was only going to intensify and there was a chance it would freeze, the trail would be too dangerous.  We hiked this trail just in the nick of time.
It was beautiful to look down the river toward the fog-covered rocks as we descended the trail.  I stopped every couple of minutes to take pictures because every vantage point was so cool.
The views continued all the way back along the paved trail as we made our way back to the trailhead.
A big lesson I've learned in the past few months (here and at Rocky Mountain National Park) is that you really shouldn't let some bad weather deter you from exploring–as long as it's still safe, of course.  If you stretch yourself a little bit outside your comfort zone, you might be rewarded with a unique and breathtaking experience all its own.