Winter is on its way out, but I have one last snowy adventure to share before we get on with spring!
When we went to Zion in February, we had two full days to explore the park (the other 2 days were partial travel days), so we made the most of them!  For one day we did The Narrows, and for the other we hiked a couple of my favorite trails.
About 2 or 3 weeks before our visit, the southwest had just gotten a pummeling of snow.  Zion was still blanketed in plenty of it!
Almost Angel's Landing: Scout's Lookout
On the morning of our first day, we picked out Zion's most famous trail: Angel's Landing.  Along the way, you're also treated to views at Scout's Lookout.
Most of the trail up to Scout's Lookout is paved to minimize erosion.  The steady grade and good traction makes it smooth sailing going up.  We moved quickly, making it the ~2 miles and 1000+ vertical feet to Scout's Lookout in just an hour.
After completing the first set of switchbacks, the trail dives back into a shady crevice.  This is where we first really started to see snow.  After a relatively straight, flat section, the trail doubles back to one last set of tight switchbacks.  These are pretty steep and were completely covered in packed snow and ice.
We walked for a bit in just our shoes before realizing how much slower and slippery it was going up the path.  We donned our microspikes, and oh wow, what a difference!!!  We practically flew up the trail.  Later, as we made our way down, the trail had a few more people on it and not many had traction devices.  Everyone was moving very slowly and many were slipping.  I was especially glad to have traction going down, since gravity does not work in your favor that way.
After we crested the final switchback, we arrived at Scout's Lookout.  Even if you don't tackle the summit of Angel's Landing, Scout's Lookout is a worthy destination all its own.  The views from the lookout are gorgeous.  Once we reached this higher elevation, everything was covered in snow.
We paused here for a bit to take in the views and assess our options.  I had pored through Instagram in the days leading up to the trip to determine whether folks had been successfully summiting Angel's.  It looked like plenty of people had done it with traction devices so I was optimistic, but ultimately I knew we'd have to see for ourselves.
In case you don't know, Angel's Landing is famous for being a particularly scary, exposed hike.  The final half mile from Scout's Lookout to the summit involves a lot of chains and extreme dropoffs.  You're essentially going up the curve of a shark's fin, with >1,500 ft drops on either side of you.  You can see photos of it in this ancient post from my first trip to Zion in 2014 or just google "Angel's Landing chains" (I dare you).
Before moving on from Scout's Lookout, I took a few photos for my sister.  She was standing a few feet from the edge, kicking a pile of snow out of the way to make a seat for herself.
And…sproing!!!  One of her spikes slipped off her heel and went flying over the edge of the cliff.
Oh dear.
Our odds of making it up Angel's were not looking good.  Regardless, we decided to at least try to go up the first set of chains up to the summit to see how it felt.  Everything up there was covered in snow, but since temperatures were in the 50s and sunny, the snow toward the summit had turned mushy and loose.
Mr. AA bounded up the first set of chains without much trouble.  Sister AA and I brought up the rear, gingerly feeling out the snow and stone.  Many sections of the trail, including the first bit, aren't flat, so you're relying on the chains and narrow footholds to stay grounded.
It only took a few steps for me and my half-spikeless sister to give it a giant "nope."
We were pretty bummed to have to turn back, since Angel's is such an amazing hike–truly one of the best in the southwest!  But, it wasn't worth doing if we didn't feel safe and wouldn't have a good time.  A few people were attempting to keep going, but no one we spoke with had managed to reach the summit that day.
After we got back down, we drove a few minutes back into town and were happy to find a pair of replacement spikes for Sister AA.  After picking her up a new pair, we went right back to another trail.
Hidden Canyon
Hidden Canyon is not as popular as many of the other trails in Zion, but in my opinion it should not be missed!  The trail starts off with a grueling ascent out of the canyon floor, covering about 1,000 feet in a little over a mile.
After we finished off the switchbacks, we didn't see anyone else on the trail.  From the switchbacks, you'll head up a set of stone stairs and turn a corner toward one of the best parts of the trail.  On your right is a sheer dropoff about 1,000 feet to the canyon floor.  But don't worry, you have plenty of room to walk comfortably, and you have chains to hold onto most of the time.
The views on this segment of the trail are absolutely stunning.  You're just high enough to appreciate the magnitude of the canyon around you, but low enough to still feel dwarfed by the majestic sandstone towering around you.
Basically, you're wrapping your way around a giant hunk of sandstone.  Once you've wrapped around to the other side, you'll be looking at the little nook where Hidden Canyon starts.  In the photo above with Mr. AA, you can see the start of the canyon off to the left where the footprints are.
Hidden Canyon starts from elevation, but it's flat all the way through.  The maintained trail ends at the mouth of the canyon, but since it's a slot canyon, there's no need for a trail since nature carved one for you.
You can go as far back into the canyon as you're willing and able.  There are many places where you have to scramble up rocks or make your way over or under large tree branches.  It's a little bit more of an involved hike, which makes it that much more fun.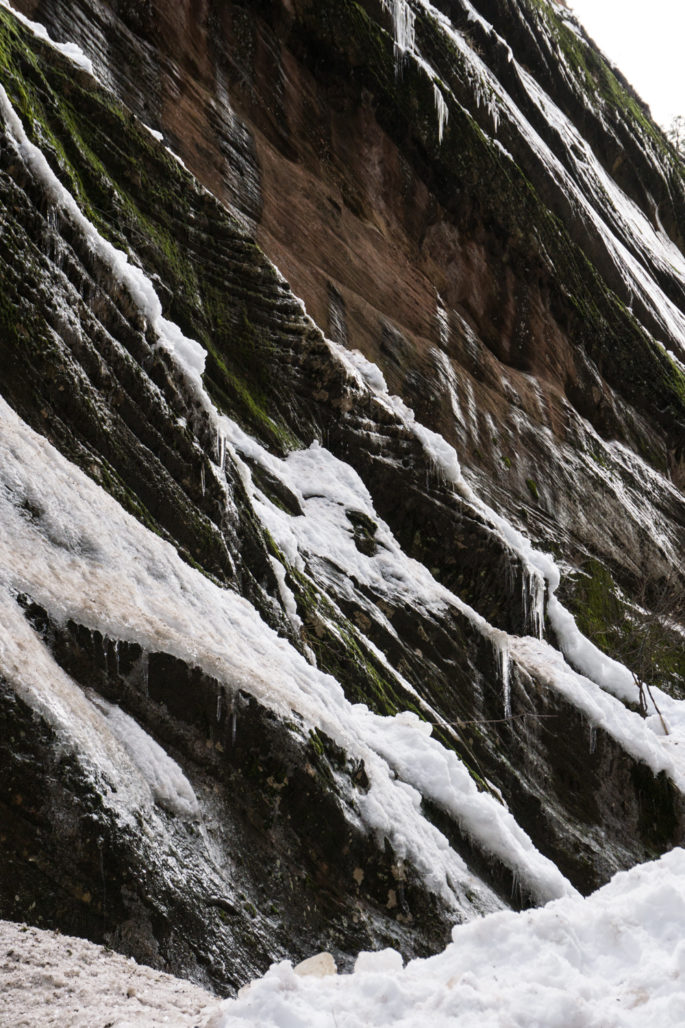 It was getting late in the afternoon, and the warmth of the day was unseating a lot of the snow and ice.  We walked back in the canyon for about half an hour.  But as we got further into the canyon, ice falls became more frequent and louder.  We noticed that the floor of the canyon was littered with an increasingly large amount of marble-sized ice pieces, with more falling every few minutes.  We decided not to tempt fate and turned back before one of us got an ice-induced concussion.
As we came out of the canyon, we went a couple hundred feet out of our way to a lovely overlook.  You can get there by veering slightly left coming out of the canyon, or by cutting a hard right if you're going toward the canyon.  The little trail up to the overlook was completely covered in snow without a single footprint.  Fortunately, since we had visited before without snow, we knew it was there.
Looking out from the overlook, you can see Angel's Landing in front of you.  The summit is just to the right of the pine tree branches. (Not the flat rock formation, but the one in front of it with a domed top.)
Even though we didn't get to finish off Angel's Landing, we got to use the rest of our day to see Hidden Canyon, which definitely wasn't a bad trade!
P.S. Cameo appearance by my lulu first mile jacket that I lent to my sister for the day.
Tips for visiting Zion in winter
Winter can be a great time for a quick visit to Zion, since snow accentuates the landscape so beautifully and most of the main points of interest are still accessible.  Crowds are thin, which is great for those who enjoy a little solitude in nature and don't care for unwieldy masses of tourists.
Here are a few more tips for considering Zion in winter.
See snow?  Wear spikes.  Microspikes or another type of traction device are indispensable in the snow.  Since a lot of the best hikes have steep inclines, you don't want to waste your time clowning around slipping on ice.  All three of us use Kahtoola. (Side note: Kahtoola is actually based right here in Flagstaff, AZ!)
If you're not sure, turn back.  Winter can create some, er, interesting situations, as this post illustrates.  If conditions are beyond your comfort and skill level, don't be shy about finding something else to do and see.
Listen for ice falls in canyons.  After snowfalls, melting snow and ice are everywhere.  Since Zion is full of towering cliffs and sheer walls, it's especially important to be mindful of your surroundings, including what's over your head.
Pack gloves.  Since several Zion trails involve chains, you can't always keep your hands in your pockets to keep them warm.  Even a thin glove can help you keep the feeling in your fingers, especially against the cold metal of the chains.
Lodging is cheap but businesses are limited.  The best place to stay when you visit Zion is the town of Springdale.  It's right outside the park entrance, only a few miles from the best trailheads, and has plenty of hotels to choose from.  Compared to most national parks I've been to, Zion is very quick and easy to get in and out of.  In winter, you can stay in Springdale for around or under $100/night.  Rates for the same hotels easily double or even triple during the summer, which adds up fast.  We stayed at the La Quinta because of their free breakfast and generous pet policy.  That said, while you get to enjoy cheaper lodging, many restaurants, shops, and gear rental stores are closed for the season.  If you're ok with bare bones options in exchange for cheap rates and zero crowds, go in the low season!  If you'd rather have all the options but pay a little extra, go in the shoulder or high season.