Athleta recently launched a new fabric innovation, the VitaFree fabric, along with a new style of tights to go with them. The transcend tights are designed to be a barely-there, ultra-light, ultra-simple pair of leggings. It's pretty clear that this new style is intended to be a more direct counterpart to lululemon's align tights. I ordered a pair to see how they hold up to the competition. The good news is they are mostly fantastic. The bad news is the one issue I had with them was bad enough to be a total dealbreaker.
Transcend Tight Fit
I'm wearing the transcend 7/8 tight in XS petite, which is listed as a 23″ inseam. I opted for the petite length because I was looking for more of a cropped inseam rather than full length. I'm 5'3″ and I like that the petite inseam hits well above my ankles. With Athleta's petite, tall, and regular sizing available, you can dial in pretty much any length you like. These fit true to size for me, similar to my other recent Athleta purchases. I would not recommend sizing down.
The VitaFree fabric on the transcends is thinner and has a different feel than the PowerVita fabric used in their elation and salutation tights. The VitaFree fabric feels quite similar to PowerVita to the touch, but when worn, it fits lighter.
A design choice I love on the transcends is the waistband. The transcend tights have no seam at the top (like lululemon's aligns). This is a more comfortable design than the waistband on the elations, which do have a top seam, so I love this modification. The high rise hits right at my belly button.
The waistband has a sewn-in pocket on the inner right side. It's large enough for cards or keys, but is not large enough for most modern phones (my iPhone 11 Pro does not fit).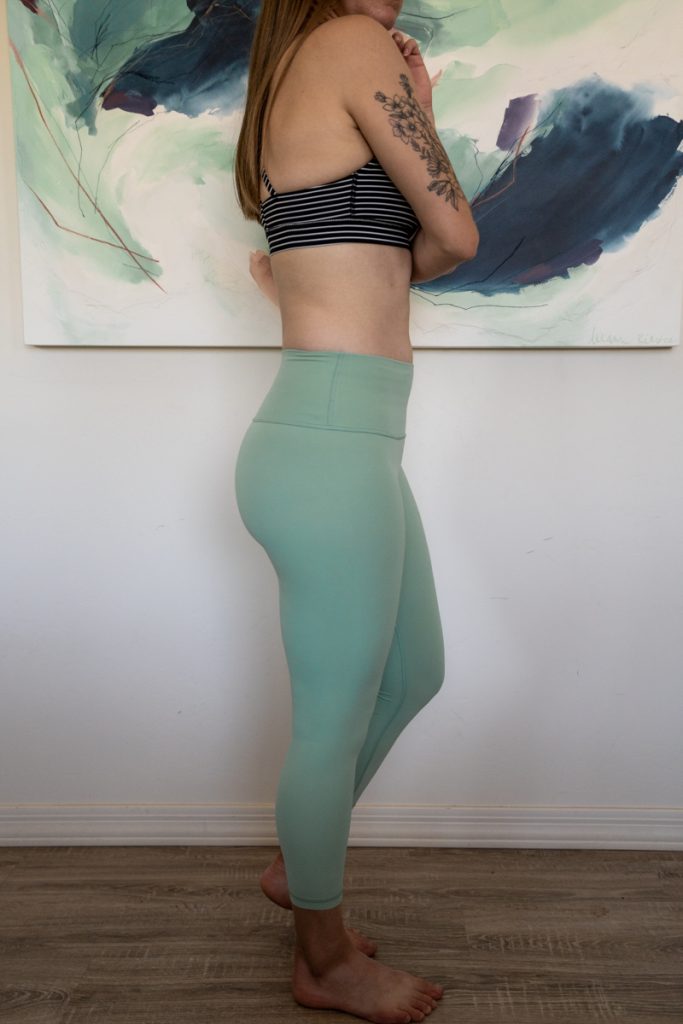 VitaFree Fabric Feel and Coverage
The feel of wearing these is excellent. The fabric and fit is extremely comfortable, hugging just right without feeling constricting.
Raleigh green is a beautiful shade that's vibrant without being too neon. I love this color! It's not muted, but a creamy and soft shade. It is very difficult to capture in photos, though! I adjusted the photos as best I could, but the color is a bit more green and slightly richer in real life than it appears in my photos. Athleta's stock photos are a bit closer to accurate.
Unfortunately, this fabric was wildly see through. When wearing black underwear, I could see the clear outline while standing up straight–this is a very bad sign. Obviously, in a bend or squat, things got considerably worse. To keep these photos appropriate for the internet, I wore skin-colored underwear underneath, so it is intentional that the sheerness is not apparent here. If you want to see a more clear example of the coverage issue, here is a link to a photo showing how you can clearly see the tag through the waist of the pants.
Others have reported that opacity is better in the darker colors, though I haven't tried them for myself. That said, even though lighter colors are always more likely to be sheer, the sheerness is usually only an issue in a squat. The fact that these were sheer standing up straight was pretty bad, even by the standards of light colors.
Athleta Transcend Tight versus Lululemon Align Tight
There are a couple key differences I noticed in Athleta's transcends compared to lululemon's aligns. To the touch, the VitaFree and nulu fabrics feel extremely similar. But when worn, the fit is slightly different: the transcend tights fit slightly tighter and are marginally more compressive than the aligns. This could be either a pro or a con, depending on your ideal fit.
The ankle opening is a bit more fitted on the transcends. I can't wear the longer inseams of the aligns like the 25″, because they get baggy at the ankles on me, which I find super annoying. Athleta's, however, fit nicely around the ankle, no bagginess in sight. Point for Athleta!
The waistbands also feature different seaming styles: lulu uses an angled waist in the rear, compared to the flat seam of Athleta's. The angled waistband is a little more flattering. And the coverage for nulu, while also not perfect, has an edge over Athleta's VitaFree.
Overall, in my opinion, lulu has a slightly better product in this showdown. The aligns feel slightly better, are a little more flattering, and have better coverage compared to the transcends. Both, however, are still excellent tights. (For reference, here is my previous review of the align tights.)
Final Thoughts
Since I really like the fit and feel of the VitaFree fabric, I'd love to try these again in the future, especially if Athleta troubleshoots the sheerness issue in their fabric processing. If you find a pair where you're happy with the coverage, they are great tights and I would recommend them!
If you'd like to try the transcends for yourself, they're currently available in three different lengths, with a good range of sizing and colors available in each:
Transcend 7/8 tight (as shown in this post)
Transcend capri
Transcend 7″ short