In this post, I'll show a direct side-by-side comparison of lululemon's groove super-high-rise flared pants versus Athleta's elation flare pants. I'll also highlight the key differences between them. If you prefer, I wrote fully detailed review of each previously: you can read about the groove pants here and the elation flares here. This post is more abbreviated and focuses on the differences between these styles.
In this post, the lululemon pants are bronze green, on the left, and Athleta's are spiced cabernet on the right.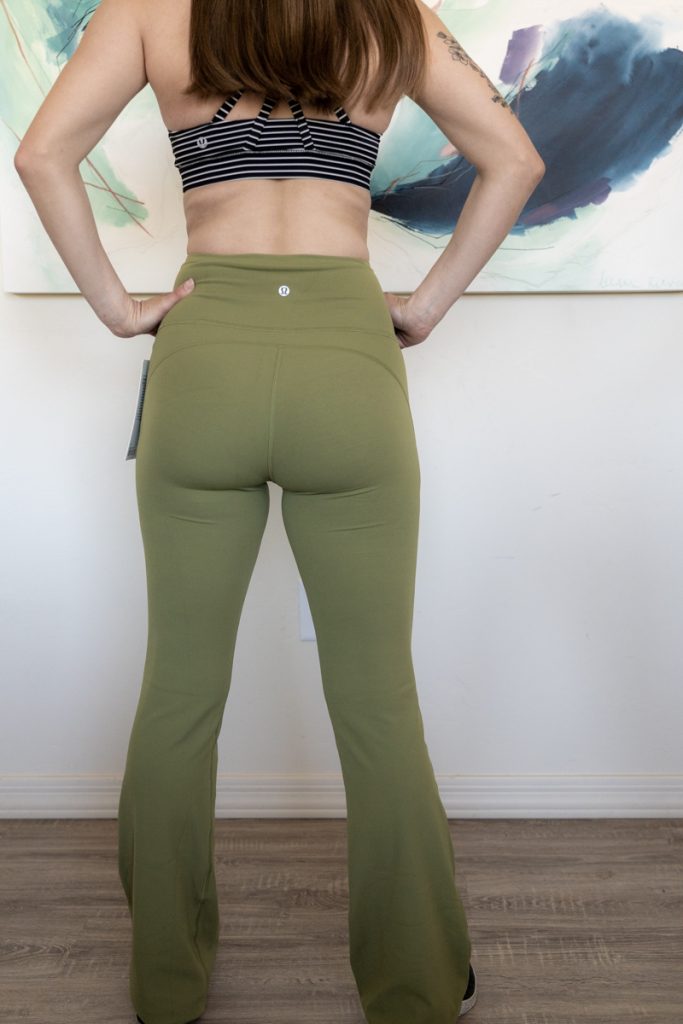 Elation flares versus groove pants: fabric differences
Athleta's VitaFree fabric is slightly thicker and more compressive than lululemon's Nulu fabric. The groove pants were somewhat see-through on me in a squat, while Athleta's were opaque.
Nulu fabric has a slightly spongier and stretchy feel. The VitaFree fabric feels a bit more cotton-like. Both are lightweight but Nulu is a little lighter.
Is sizing the same on the groove pants and elation flares?
I'm wearing a size 4 in the grooves and XS P in the elations. They fit similarly, and in my opinion fit true to size. The grooves are a bit stretchier, though, so if you're between sizes or want a more compressive fit, size down for the groove pants. The size 2 was still comfortable for me in the grooves, but the XXS was a little constricting in the elations. Take note that if you size down on the grooves, you may be more likely to run into see-through issues since they're a bit thinner.
I am 5'3″ and typically wear a 29″ inseam. With the groove pants, I folded the hem underneath for these pics to show what they'd look like if they were hemmed to the proper length on me. The elation pants are a good inseam for me off the shelf, so they are not folded. You'll also notice the rise on the lululemon pants is an inch or two higher.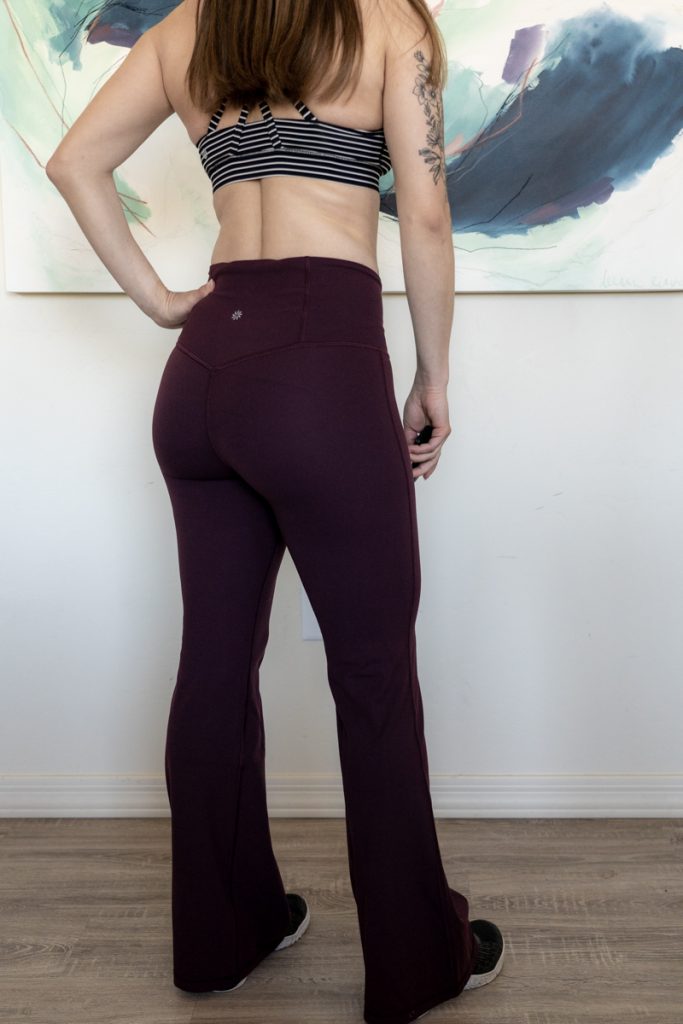 Which flare pant is better: lululemon or Athleta?
The Athleta elation flare is more flattering, not see-through, and more comfortable. Athleta also offers different inseam lengths, which ensures a better fit for folks of all sizes. In my opinion, Athleta's flare is the clear overall winner. However, Athleta's color choices are currently much more limited compared to lululemon. Also, if you prefer a lighter weight fabric and don't have issues with opacity, lululemon's pants may be the winner for you.
The groove pants are currently $98 or $118 on lululemon's website, depending on color. You can pick up a pair of Athleta's elation flares on their site for $99.